The Borough of Belmar selected the Gale Company of Florham Park as the Master Redeveloper for its Seaport Redevelopment Project. The mixed-use project will include new housing, retail establishments, restaurants, offices and structured parking. In addition, the redevelopment project will reconnect and integrate the Marina and Inlet areas of the town with the Main Street corridor. In these waterfront areas, the Borough plans to construct 54 new boat slips, a miniature golf course, and several restaurants, as well as new walkways and public spaces to encourage pedestrian movement between the Marina and the downtown area.
In total, 13 different development sites have been identified, including the renovation of the central town square, Pyanoe Plaza. Other plans include significant streetscape improvements and the construction of the pedestrian-only "Sunset Bridge" to link train commuters and shoppers to a planned hotel near the Marina.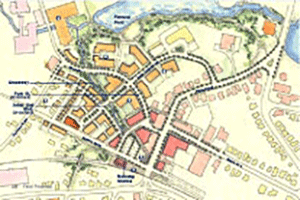 Netcong, the most recently named Transit Village, has designated Woodmont Properties of Parisippany to develop a 13-acre project surrounding the NJ TRANSIT train station. In a joint venture with Roseland Properties, the developer will build 201 one- and two-bedroom units, 13,000 square feet of retail space and 7,000 square feet of office space. The residential units will range in price from the high $300,000s to the low $600,000s. The project will also include a 4,500-square foot community center and provides for numerous green spaces and parks. The area is currently used as a parking lot for NJ TRANSIT commuters on the Montclair-Boonton and Morristown lines. Much of the planning was facilitated by NJ TRANSIT's Transit-Friendly Planning Assistance Program, which helps municipalities redevelop land around train station areas.
The Regional Plan Association (RPA) was instrumental in the borough's community planning process, holding several outreach meetings with residents and local business owners. The borough hopes to break ground in early 2007.