The Station at Grant Avenue in Plainfield, NJ. Source: TD+Partners
NJ TOD News
Five-Story Building Could Replace Vacant Newark Avenue Lot
Jared Kofsky, Jersey Digs, January 21, 2019
The development firm Newark Ave, LLC has proposed a five-story, residential, commercial, and retail project at 235 Newark Avenue, within walking distance of the Grove Street PATH station in Jersey City. The site is located within the Village Redevelopment Plan area. The current project plan calls for only four parking spaces. The Jersey City Planning Board heard the request for site plan approval on January 22.
39-Unit Development Planned in Roseville, Newark
Jared Kofsky, Jersey Digs, January 24, 2019
The Newark Zoning Board of Adjustment is scheduled to hear a motion by 8 Ball Construction, LLC for variances to construct a multifamily complex next to the NJ TRANSIT tracks in the Roseville neighborhood of Newark. The planned development would have 5 stories and 39 residential units, with only 19 parking spaces. The Newark Light Rail's Orange Street station is a half-mile from the site, and NJ TRANSIT buses also service the property.
Robinson Miller Signs On as Latest Tenant at Ironside Newark
Linda Lindner, NJBiz, January 24, 2019
Ironside Newark, a business hub located two blocks from Newark Penn Station, has signed law firm Robinson Miller, LLC as its second law office tenant. Robinson Miller is celebrating its 50th anniversary of establishment in the city of Newark. With anchor tenant Mars Wrigley, Ironside Newark provides a prominent development in a revitalizing downtown area.
Plainfield: Five-Story Apartment Building Proposed on Park Avenue
Mike Deak, Bridgewater Courier News, January 25, 2019
Pontoon Properties has proposed a five-story apartment building two blocks from the Plainfield train station on the Raritan Valley Line. The developer is seeking a use variance because the project is single-use residential, while the city's Transit Oriented Development Downtown (TODD) Zone requires properties to be mixed-use. If approved, the project will complement numerous other projects in Plainfield's TODD Zone around the train station, including the Station at Grant Avenue.
Regional and National TOD News
How Light Rail Will Change Downtown Durham Housing and Jobs
Dawn Baumgartner Vaughan, The News & Observer, January 23, 2019
The Coalition for Affordable Housing and Transit is pushing for GoTriangle, otherwise known as Research Triangle Regional Public Transportation Authority, to ensure 15 percent affordable housing is included in any developments around the Durham-Orange Light Rail stops. GoTriangle plans to submit its final application for federal funding from the FTA by the April 30 deadline. Current plans call for Durham Housing Authority properties around proposed stops to be redeveloped as mixed-income properties with one-for-one replacement of affordable units, as well as for several Low-Income Housing Tax Credit (LIHTC) projects to be constructed on city-owned land.
After Past Scandals, UTA's Board Adopts New Policy Governing 'Transit-Oriented-Developments'
Lee Davidson, The Salt Lake City Tribune, January 23, 2019
The Utah Legislature has restructured the Utah Transit Authority Board (UTA) after state audits revealed the former UTA was making deals with developers and receiving favors in return for the award of TOD projects. The new policies institute a board that will objectively rank potential TOD projects, share information with the public, use outside consultants to perform financial analyses of projects, and increase overall transparency of the decision-making process.
New Deal Would Create Metro-North Line into Penn Station from Westchester
Zak Failla, Daily Voice, January 23, 2019
MTA has announced a deal with Amtrak to build four new Metro-North stops in the Bronx to ease commuter issues for residents. The new stations will lie along Amtrak's Hell Gate line, and the improvements and access to the line will allow MTA to create direct access for commuters between New Rochelle and New York Penn Station. Local officials and business liaisons anticipate TOD options, business growth, and new residents to the area as the new stations are built.
Voters Approved Incentives for Density Near Transit Stops – Now Some Projects in Jeopardy
Bianca Barragan, Curbed Los Angeles, January 24, 2019
As many as 36 residential projects in Hollywood and Koreatown are being held up due to competing land-use plans that were in place prior to the establishment of the CRA/LA redevelopment agency. The previous land use plans, established by California's now-dissolved community redevelopment agencies, contain land-use limitations that do not allow for effective TOD. LA residents have voted for TOD incentives, but the old land-use plans were approved at the state level, and thus technically override any local policies.
Kirkland Urges Transit-Oriented Development at Kingsgate
Katie Metzger, Kirkland Reporter, January 24, 2019
The City of Kirkland, WA wants to transform the neighborhood around the Kingsgate Park and Ride lot into a TOD, centered around the ST3 I-405 Bus Rapid Transit project. A feasibility study provided to the city council in December 2018, indicates TOD is feasible but funding would be difficult to secure. The city considers the area ideal for TOD implementation of affordable and market rate housing, but not office, hotel, or pedestrian-oriented retail.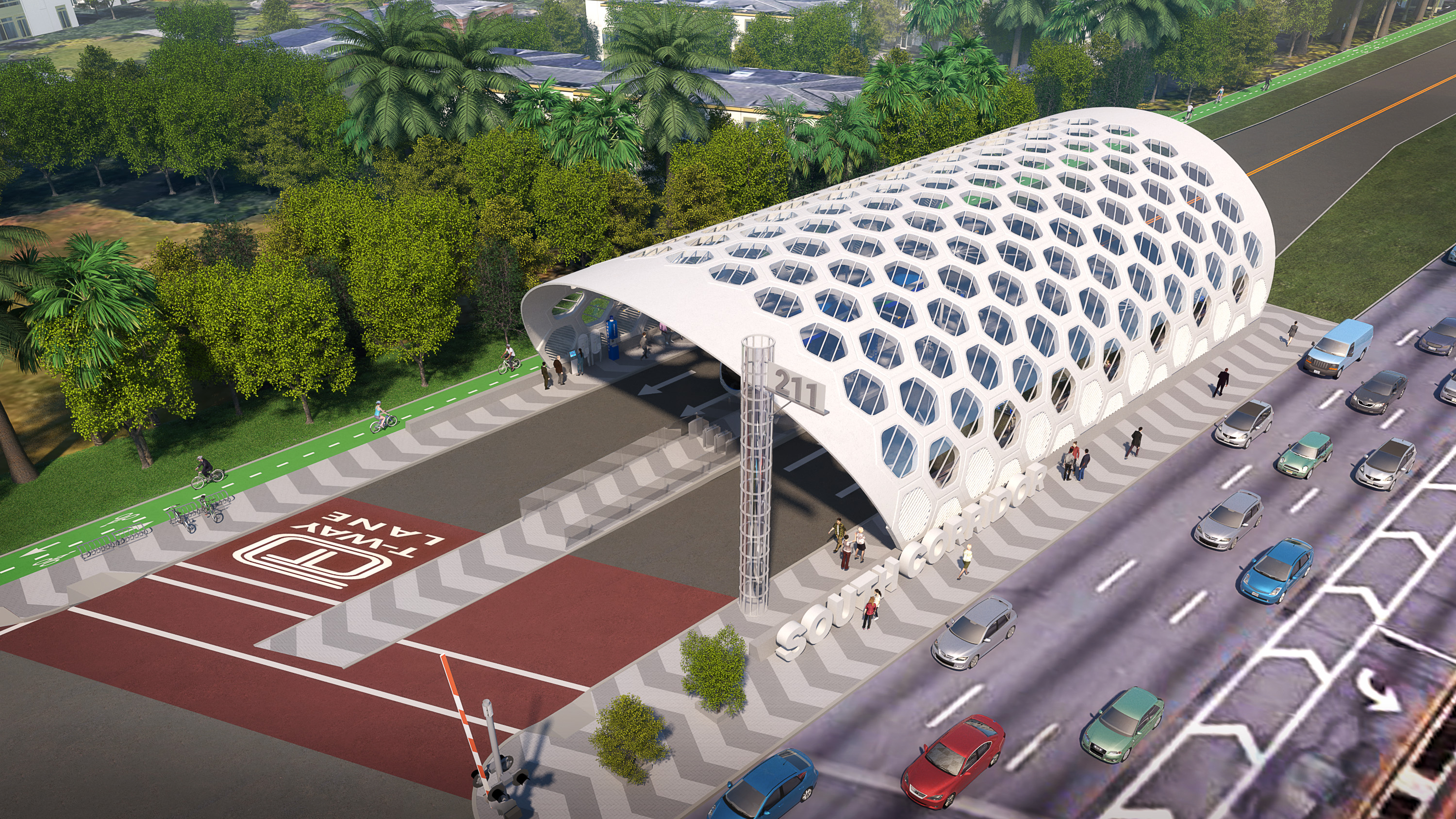 Miami-Dade Passes Plan to Let Developers Build More Near Metrorail, Transit Routes
Douglas Hanks, Miami Herald, January 24, 2019
In an attempt to pursue TOD, Miami-Dade County commissioners have revised development rules to allow increased density along six BRT and rail corridors. Changes to zoning law will have to be approved by the county, but the new plan allows for a maximum of 60 units per acre outside of the city limits along the corridors. The revisions follow the implementation of a tax zone around the corridors last year that diverts property value increases above 4.5 percent to future transit projects.
CATS Picks Rail Route From Uptown to Airport – and Gaston County
David Boraks, WFAE, January 24, 2019
The Charlotte Area Transit System (CATS) has announced its decision to install a Silver Line light rail line from Matthews along the Wilkinson Boulevard corridor to uptown Charlotte, and then out to the airport, potentially continuing into Gaston County. The agency also plans to expand bus service and coordinate a people mover system to get passengers between the airport terminals and the light rail station. The planning director in Belmont has indicated localities are considering TOD in the discussion for the new line, which does not yet have a completion date.
International TOD News
Panel Approves West Section
Wichit Chantanusornsiri, Bangkok Post, January 22, 2019
Thailand's Public Private Partnership (PPP) Committee has approved the second section of the Orange Line, operating between Bang Khun Non and Min Buri. The government is responsible for expropriating the land and providing it to the private sector, who will build, operate, and maintain the rail system for 30 years. Additionally, the PPP Committee approved the second phase of the National Housing Authority's TOD initiative in Bangkok, which is currently served by two heavy rail lines. Three additional heavy rail lines and three monorail lines are either planned or under construction.
Bold Vision for Redevelopment of Land near Fairview Pointe-Claire Mall
Kathryn Greenaway, Montreal Gazette, January 24, 2019
The current Fairview Point-Claire shopping mall is scheduled to be renovated while the 50-acre adjacent vacant property is redeveloped into a mixed-use "living hub." The new development will include a Réseau express métropolitain (REM) light-rail station to complement the bus terminal that already serves the mall. The property management company, Cadillac Fairview, owns the vacant parcel, and is seeking to develop a master plan in conjunction with the mall owners to ensure TOD is properly implemented in the project.