Berlin Friedrichstraße, a multimodal train station in Berlin, Germany by user Holger Doelle licensed by CC BY-SA 2.0
NJ TOD News
NJ, NY Lawmakers Eye New Commission to Oversee Gateway Project
Michael Symons, New Jersey 101.5, June 12, 2019
In Trenton, Senate leaders are currently sponsoring a bipartisan bill that would formally expand the Gateway Development Corporation into a bi-state commission; the commission has been in existence since 2015 as a cooperative/federal state effort. The new bi-state commission would be empowered to lead the development of new rail tunnel and various related projects for New Jersey and New York. This expansion would triple the size of the board from three to nine members, evenly split between the two states and Amtrak, and aims to introduce into the system greater accountability and openness from governors and state legislatures.
Renovated Harrison PATH Station Set to Open to the Public
News 12 New Jersey, June 12, 2019
The Harrison PATH station reopened its eastbound side to the public at 9 AM on Saturday, June 15, after renovations and upgrades to the station. The PATH station upgrade is a milestone in a $256 million redevelopment project started by the Port Authority of New York and New Jersey about ten years ago. The station itself has contributed to the appeal of recent residential and retail development in Harrison.
Development Near Rail Lines Strains PATH System's Capacity
Associated Press, Pix11 News, June 12, 2019
Harrison has experienced a residential development boom in recent years, causing a 30 percent increase in its population since 2010. Development in Harrison has resulted in a 25 percent increase in PATH ridership between 2012 and 2017, which has pushed the PATH system to its capacity. PATH Director Clarelle DeGraffe noted that measures are in place to accommodate the increase in ridership, but riders will likely not notice the difference until late 2021, when 72 new cars are anticipated to be put into service.
Jersey City's Uber-Style Transportation System Will Focus on These "Transit Deserts"
Adrienne Romero, The Jersey Journal, June 12, 2019
Jersey City is planning to put a new public transportation system in place for its northern- and southern-most neighborhoods, considered to be "transit deserts," to create greater connectivity within the city. The new system, developed as an additional transportation option for these areas provides passengers a way to hail local rides using apps such as Uber and Lyft for approximately $2 per ride regardless of location or time of day. Passengers may request rides from fixed pickup and drop-off locations such as the West Side Branch of the Hudson-Bergen Light Rail, Journal Square, Exchange Place and the Newport PATH station. Passengers will also be able to set their own pickup and drop-off locations.
FTA Grant to Help Fund NJ TRANSITGRID Project
Mischa Wanek-Libman, Mass Transit Magazine, June 13, 2019
The Federal Transit Administration (FTA) has approved $46 million in funding for NJ TRANSIT to move forward with the design and construction phase for the Distributed Generation component of the NJ TRANSITGRID Project, a part of the agency's Resilience Program. The Distributed Generation portion of the project will enable the provision of reliable power in support of critical infrastructure during any power outages and is a first-of-its-kind system. Electrical power systems will be developed at various locations such as Newark Penn Station, Broad Street Station, Secaucus Junction Station, and the Port Imperial Ferry Terminal.
Regional and National TOD News
Opponents of Plan for Apartments at 46th and Dodge Cite Need for Affordable Housing, Transit-Oriented Development
Alexandra Stone, KETV Omaha ABC 7, June 5, 2019
The Omaha Planning Board recommended approval for transit increment financing (TIF) after developers pursuing construction of a 278-unit apartment project at 46th and Dodge requested $6.5 million in financing last week. The project is receiving pushback from opponents who cited that the project does not meet the needs of the neighborhood and will not encourage use of the Bus Rapid Transit System (BRTS) that will soon be installed along Dodge Street. Opponents have noted that transit-oriented development and affordable housing units are needed in conjunction with the new BRTS rather than new high-end rental units.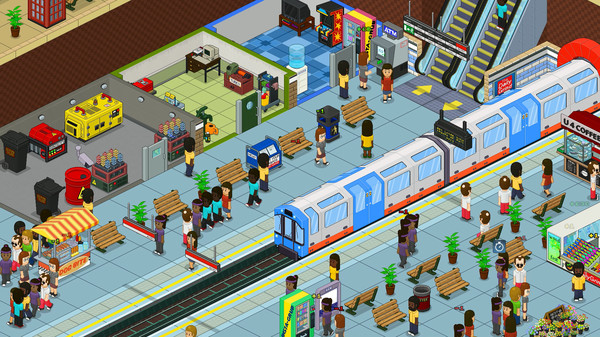 Overcrowd Forces You to Think About Transit Design in a Different Way
Nicole Carpenter, The Verge, June 7, 2019
If you are like most people, you probably think that you could do a better job designing a transit station. Well, now is your chance. Akin to "SimCity," "Overcrowd: A Commute 'Em Up" lets players create, manage, and reconsider the nature of a transit system modeled on the London Tube. Players must deal with constraints (funding!), the needs of riders, and even the impact of design on the function and essential nature of transit stations.
Mega-Measure: $100 Billion Traffic-Busting Tax Plan for the Bay Area Taking Shape
Erin Baldassari, The Mecury News, June 9, 2019
The Bay Area Council, the business organization Silicon Valley Leadership Group, and the urban planning think-tank SPUR have formed a partnership with the goal of reimaging the region's transit system through a yet-to-be-formulated nine-county plan, already dubbed Faster Bay Area. Bay Area citizens may see the reimagined plan on a voting ballot, as the transit plan would be funded through a tax spanning several decades. The plan's purpose is to create greater connectivity for the Bay Area's transportation network, which includes rail, bus and ferry, through a regional transit system. Public input on the plan could start coming in within the next several months.
Who's in Charge of Equity for the Orange County Streetcar? It's Not Clear
Alejandra Molina, Next City, June 12, 2019
Artesia Pilar, a neighborhood in the City of Santa Ana, CA, is preparing for the first modern street car in the county under the leadership of the Orange County Transportation Authority (OCTA). The streetcar, which is anticipated to be up and running by 2022, will travel along a 4.1-mile route that will link the City of Santa Ana to Garden Grove and provide a "last mile" transit option for those disembarking the Metrolink Commuter Rail Train. The OCTA has not yet addressed the issue of equity or offered guidelines that speak to any displacement that may occur as a result of the project.
International TOD News
Autowa no more? Transit-Oriented Developments Key in Switching Ottawa Away From Car City
Devyn Barrie, Ottawa Start, June 10, 2019
Ottawa is on the brink of city-changing growth due to the addition of the new Light Rail Train (LRT) system. Key LRT stations are planned to rejuvenate existing neighborhoods and encourage new communities in a way that will create transit-oriented centers that are seen as essential  to reducing car dependence in Ottawa. Ottawa's Transportation Master Plan (2013) set a goal of non-car-driver travel share at 50 percent by 2031. Ottawa is working on creating its next plan and anticipates raising this benchmark.
Berlin Launches Single App for Booking Private and Public Transport
Jill Petzinger, Yahoo Finance UK, June 11, 2019
Berliner Verkehrsbetriebe (BVG), a public transport company located in Berlin, Germany, launched an app on Tuesday that includes links to both the city's public and private transportation options. The app, Jelbi, the first of its kind in Europe, acts as a one-stop shop for multimodal transportation collaboration (i.e. ride-sharing and public transportation options). Trafi, the Lithuanian startup company that developed Jelbi, created the app to allow users to visibly see the various options they can take to arrive at their destination and allow users to select, book and pay for their fare without exiting the app.