Transforming transit safety without more police (right); NJ TRANSIT plans bus purchase; Fare-capping may increase ridership; Clean energy transition tied to walkable neighborhoods and public transit; Safer public transport for women in Malaysia (left top-to-bottom)
Article of the Week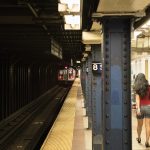 Three Lessons for Transforming Transit Safety — Without More Police
Haleema Bharoocha, Streetblogs USA, November 14 2023
TransForm's report, "Ride Fearlessly: A Framework for Reimagining Transit Safety," highlights the crucial relationship between public transit safety and service improvements, such as unarmed staff, clean restrooms, and frequent services. Recognizing diverse safety needs among individuals facing challenges such as drug-abuse, race-based harassment, and homelessness, the report emphasizes the importance of addressing all safety concerns. It critiques traditional policing and advocates for supportive initiatives, highlighting SEPTA's SCOPE program.
NJ TOD News
HOBOKEN—All About the New RWJBarnabas Health Hub in Hoboken
Somasetty Suresh, Express Healthcare Management, November 14 2023
RWJBarnabas Health has completed work on its new comprehensive healthcare facility at 59 Newark Street, which will provide care in family medicine, orthopedics, cardiology, and OBGYN. The 23,000-sq. ft. center will be operated in collaboration with JAG Physical Therapy, LabCorp, and New Jersey Imaging Network. The strategic placement of the facility at 59 Newark Street near Hoboken Station provides excellent access to healthcare via PATH, NJ TRANSIT rail and bus, and the Hoboken Ferry.
JERSEY CITY—50-Unit Development at 179 Academy Street Breaks Ground in Jersey City
Chris Fry, Jersey Digs, November 10 2023
Titanium Realty Group has commenced construction of a six-story building at 179 Academy Street. The project, designed by Quatela Architects, will consist of 50 residential units and offer 26 bicycle parking spaces. The project, located less than a half-mile from the Journal Square PATH Station, will not include parking for cars.
NJ Transit Buys 750 Diesel Buses for $685M. Is the Future All-Electric?
Colleen Wilson, North Jersey, November 9 2023
The NJ TRANSIT Board has approved what might potentially be its last order of diesel buses as it has earmarked $658 million for 550 40-foot buses and 200 60-foot articulated buses needed to serve ridership that has returned to pre-pandemic levels. In accordance with Governor Murphy's 2032 energy master plan, in the future all NJ TRANSIT bus purchases will be zero-emission vehicles (ZEV). This shift towards ZEV buses will necessitate significant upgrades to the agency's 16 bus garages for charging infrastructure, modernization, and expansion.
---
Transit and Equity News
MISSOURI—After Years of Free Bus Fare, Kansas City Is Studying Whether to Charge for Rides Again
Celisa Calacal, Kcur, November 10 2023
The Kansas City Area Transportation Authority (KCATA) is considering reintroducing bus fares due to financial concerns. Before fare elimination in 2019, money collected from bus fares made up 7-12 percent of the agency's total revenues. Amid inflation and pay raises for bus drivers, KCATA's operating expenses have steadily increased, prompting a review of its fare policies. Ridership has also increased after COVID-19 declines.
PENNSYLVANIA—Pittsburgh's URA to Help Fund Oakland Housing Development for Low-Income LGBTQ+ Seniors
Julia Felton, TRIB LIVE, November 10 2023
The Pittsburgh Urban Redevelopment Authority (URA) will provide a $1.6 million loan for a new LGBTQ+ senior housing project in South Oakland. Named Oakland Pride, the six-story building will offer 48 apartments with varying affordability based on area median income (AMI): 6 units for those earning up to 30 percent of AMI, 24 units up to 50 percent, and 11 units up to 60 percent. Estimated to cost $29 million, the development on Forbes Avenue will be near a future bus-rapid transit line, universities, hospitals, and local amenities.
Fare-Capping Policies May Increase Transit Ridership
Jared Barey, Governing, November 7 2023
Addressing the challenge of boosting transit ridership, recent research from the University of Tennessee – Knoxville, suggests that implementing monthly fare-capping, where riders can board for free after covering the cost of a monthly pass, might be a key strategy to increase ridership. The study analyzed data from the 50 largest U.S. transit agencies between 2012 and 2019, which revealed that fare-capping has significant positive impact on ridership due to the perception of additional rides being "free" once the monthly cap is met. Beyond increasing ridership, fare-capping policies improve transit equity.
---
Regional and National TOD News
Walkable Neighborhoods and Public Transit Are Part of the Clean Energy Transition
Steven Higashide, The Equation, November 16 2023
The U.S. can meet its 2050 climate targets, a UCS report suggests, by shifting from fossil fuels and electrifying the transportation sector, the primary emissions source. While electrifying personal vehicles is crucial, a complete streets and clustered development strategy is needed to promote walking distance to transit stations. The authors emphasize the importance of adopting policies that foster efficient transportation for a sustainable future.
HAWAII—EAH Housing to Develop 303 Affordable Housing Units as Part of Kahului Civic Center
Maui Now, November 15 2023
The Hawaii Housing Finance and Development Corporation has selected EAH Housing to develop the Kahului Civic Center Mixed-Use complex, set to begin construction in 2027. Addressing Maui's affordable housing crisis, the project will offer 303 affordable housing units targeted households earning 30 to 60 percent of the area's median income. The development will also feature a transit hub and pedestrian pathways connecting to the existing neighborhood, a civic center, and 320 parking spots.
---
International TOD News
MALAYSIA—Safer Public Transport for Women in Malaysia
Mike Chan, Paultan, November 15 2023
Transport Minister Anthony Loke has unveiled a program to improve the safety of women using public transit. Significant issues such as poorly lit sidewalks and uneven station paths affect all transit riders, particular regular users of whom 62 percent are female. A cabinet committee on traffic congestion has plans to address these concerns by upgrading 100 bus stations and sidewalks and introducing women's coaches on the Kapang MRT line.
CANADA—City Takes Big Step Toward Redeveloping Zoning Rules
Joyanne Pursaga, The Free Press, November 14 2023
The City of Winnipeg will consider significant zoning rule amendments linked to a $192 million bid for the Housing Accelerator Fund. This initiative aims to create more than 5,000 housing units by 2026. Proposed changes include permitting up to four units per lot and allowing four-story buildings within 800 meters (~half mile) of transit corridors. Ultimately, the mayor seeks to slowly transition towards "smart density" that does not compromise green spaces.
HONG KONG—City with World's Longest Lifespan Rethinks Nearly Free Transit for Elderly
Siuming Ho, Bloomberg, August 24 2023
The Hong Kong government's Public Transport Fare Concession Scheme, introduced in 2012 to aid elderly and disabled citizens, is strained by the city's aging demographic.  Initially costing HK$296 million (US$3.8 million), the program's spending escalated to HK$3.1 billion (US$398 million) in 2021 and may hit HK$8.6 billion (US$1.1 billion) by 2031. Facing financial pressures, policymakers are contemplating adjustments such as fare increases or limiting the number of daily subsidized journeys.