The trolley cars in New Orleans circa 2005 by user Robert Kaufmann is in the public domain
NJ TOD News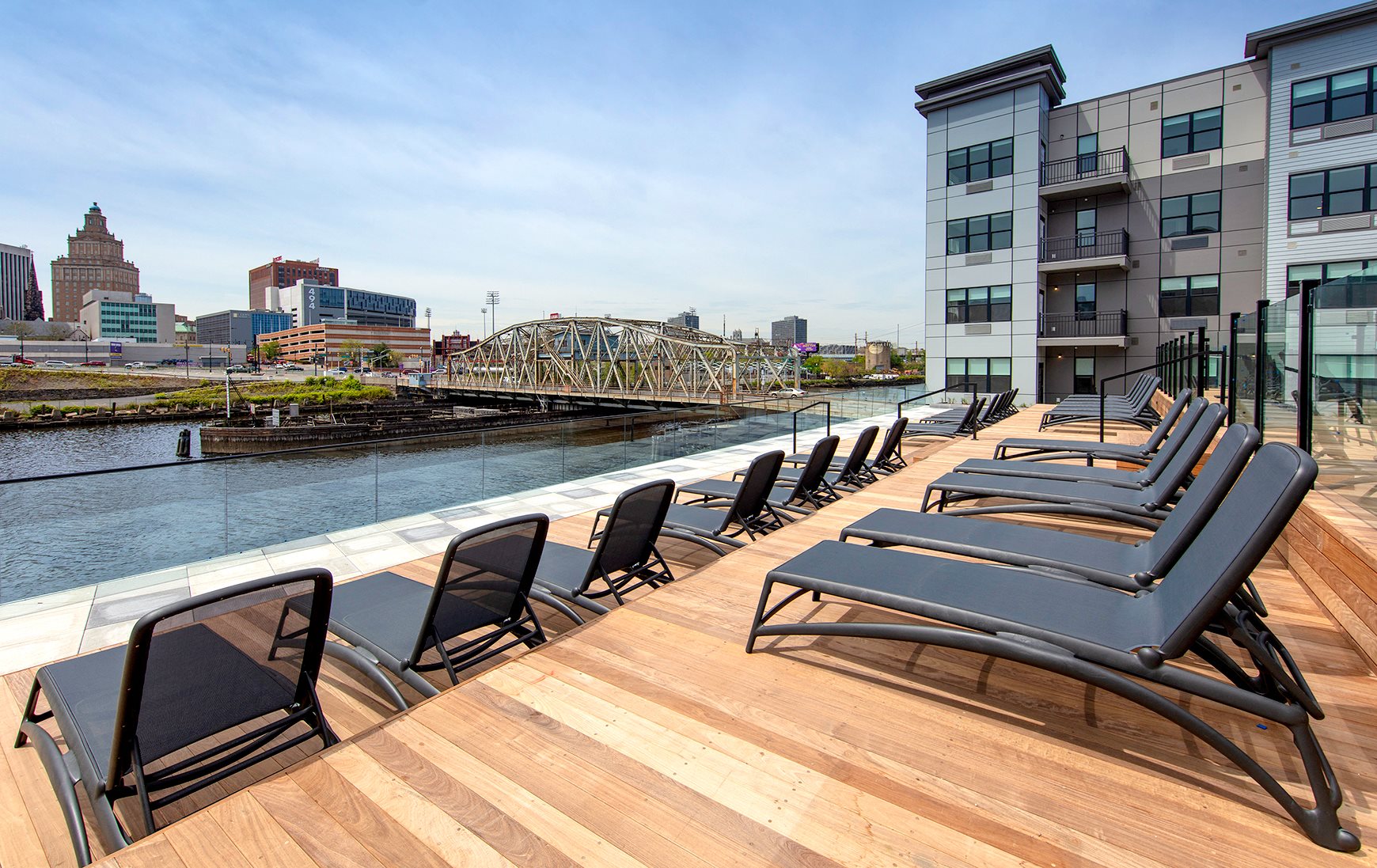 One Harrison is Complete and Awaits Immediate Occupancy in Harrison, New Jersey
Michael Young, New York YIMBY, May 20, 2019
One Harrison Avenue, a 257-unit rental complex on the Harrison waterfront, has officially opened. One- and two-bedroom units are available for immediate occupancy and start at $1,700 per month, with direct shuttle service to the Harrison PATH station available to all residents.
Additionally, 90 Columbus Street in the Grove Street neighborhood of Jersey City has leased over 75 percent of its available residential units. The residential complex is directly adjacent to the Grove Street PATH station and part of a mixed use development known as The Columbus Collection, by Ironstate and Panepinto Properties, which includes a hotel, parking garage, a Base Gym, and Sprove Market Place.
NJDOT Awards Transportation Grants to Central Jersey
Nick Muscavage, Bridgewater Courier News, May 20, 2019
NJDOT, in partnership with the North Jersey Transportation Planning Authority, has awarded $20 million across 11 towns in Central Jersey, North Jersey, and the Jersey Shore under the Safe Routes to Schools and Transportation Alternatives Set-Asides programs. Newark and the City of Orange both received $1 million awards to improve pedestrian safety along school corridors. Asbury Park received $500,000 for its traffic calming and bike and pedestrian safety upgrades, and Long Branch was awarded $230,000 for sidewalk improvements along Prospect and John Streets, some of which are near the city center and train station.
East Brunswick Shelves Redevelopment Plan for Municipal Complex, Library on Route 18
Susan Loyer, Bridgewater Courier News, May 22, 2019
East Brunswick Mayor Brad Cohen announced this week that township leaders, after major public opposition, have shelved plans to move the municipal complex and the public library from their current location on Ryders Lane to a redevelopment site on Route 18. In March the East Brunswick Redevelopment Agency selected River Development Equities as the conditional redeveloper for the project, which will include a mixed-use retail and residential community, a hotel, bus station and parking deck, along with municipal space on 35 acres located south of the junction of the NJ Turnpike and Route 18. The mayor stated a decision will be made about the use of the set-aside municipal space when the project is completed.
New York and New Jersey to Move Forward with Plans for a New Midtown Bus Terminal
Dana Rubinstein, Politico, May 23, 2019
A new document from the Port Authority of New York and New Jersey indicates the agency is considering three options in its plans to replace its bus terminal in midtown Manhattan. The Port Authority is considering: rebuilding the entire terminal while still maintaining full service in place; converting the Jacob Javits Center's lower level into an underground terminal and reroute all bus traffic there (next to Hudson Yards); or rerouting intercity buses to the Javits Center and keep New Jersey commuter buses running into the main terminal during renovations. The report does not specify projected costs for each of the options, but previous proposals have estimated project costs of $10 billion.
Regional and National TOD News
Plenty of Challenges in Bringing Bus Rapid Transit to Madison
Dean Mosiman, Wisconsin State Journal, May 19, 2019
City officials in Madison, Wisconsin are analyzing the best approaches for implementing a bus rapid transit (BRT) system in the city by 2024. Most of the proposed BRT main arterial routes would not have additional room to expand in future years, since parking and vehicular traffic was not eliminated as part of the plan.
The city has approved thousands of dwelling units and millions of square feet of office space construction in the past five years. This is anticipated to bring 180,000 more daily trips to the system, which may help to offset some of the anticipated five percent increase ($3 million) in annual transit operation costs.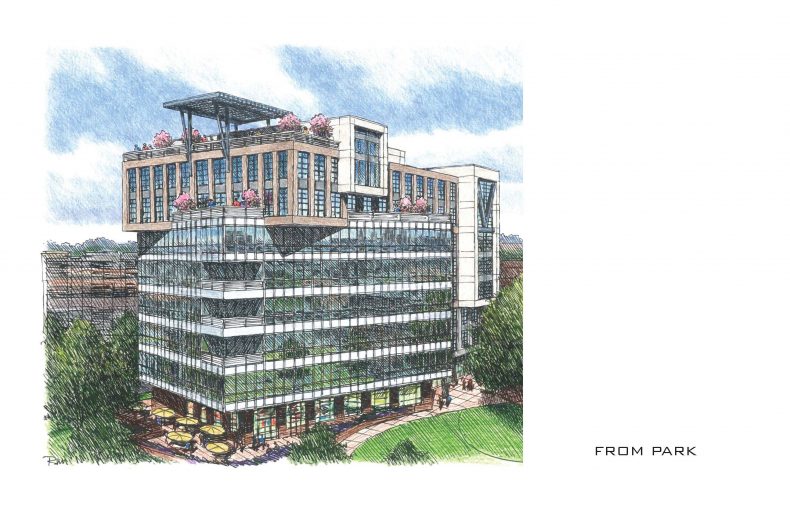 Plans for Apartments, Offices, and More Near Charlotte's South End Move Forward
Danielle Chemtob, The Charlotte Observer, May 20, 2019
The Charlotte City Council has approved a mixed-use development at South Tryon Street and West Boulevard in the South End neighborhood, next to the East/West light rail station on the LYNX Blue Line. The new building will be eight stories tall and will include multi-family housing, ground floor restaurant and retail space, an outdoor plaza, and, potentially, a rooftop restaurant. The project is one of the first to be approved under Charlotte's new transit-oriented development guidelines that modify zoning regulations related to design, open space, and allowable building heights around light rail stations.
New Orleans Needs to Fill the Gaps in its Transit System
Matt Hendrickson, Nola.com Guest Columnist, May 21, 2019
Matt Hendrickson, the policy director at RIDE New Orleans, a local transit advocacy organization, elaborates on the struggles that tens of thousands of New Orleans residents experience when trying to take buses or streetcars. Only 15 percent of the City's 2,000 transit stops have shelters to protect against weather elements. 94 percent of bus stops are not ADA compliant, and bus and streetcars are often delayed because of high vehicular traffic volumes. However, this year, New Orleans officials are updating the City's Complete Streets policy in an attempt to increase road safety and convenience for pedestrians and other non-drivers. Additionally, local transit organizations are teaming up to evaluate and redesign the entire transit network through an active public engagement and evaluation process called New Links.
Study:  Better Transit Helps Latinos Live Healthier Lives
Aaron Short, StreetsBlogUSA, May 21, 2019
A report published by Salud America! has found that Latino-Americans who live in walkable neighborhoods with access to bike infrastructure and public transit experience lower poverty rates, encounter less pollution, and get more exercise. Across the country, 57 percent of Latinos in the US are housing cost-burdened as of 2015, and Latino households are twice as likely as non-Latino households to not have a car, even though many jobs that employ Latino workers are located in suburban locations with limited transit access. The report states that TODs must work to implement affordable housing and limit gentrification impacts to facilitate the continued economic and social growth and success of Latino communities.
Has Seattle Found the Solution to Driving Alone to Work?
Erick Trickey, Politico Magazine, May 23, 2019
Since Seattle's Link light-rail added two new stations in Capitol Hill and the University of Washington in March 2016, the City has seen decreased car traffic even as population and density have increased. Local ballot measures have been approved to increase taxes for transportation services, fund further expansion of the light rail system to 117 miles long by 2041, and increase bus service to 10 minute headways for 67 percent of Seattle residents. Additionally, Washington state requires local governments to actively work to reduce sprawl and create affordable housing in former construction staging areas around transit stations, helping further Seattle's growth and transit goals.
International TOD News
How Bessarion, One of Toronto's Least-Used Subway Stations, Offers Lessons for Avoiding 'Bad Planning'
Parul Bansal, CBC News, May 20, 2019
The neighborhood around Toronto's Bessarion subway station is projected to experience rapid growth with the new Bayview Village development, but the development team and city officials do not believe the project will increase ridership at the subway stop. The stop on the Sheppard subway line opened in 2002 but was constructed in a location dominated by surface parking, strip malls, and easy access to the Ontario 401 Express highway. The first new developments to open will be far away from the stop, with no walkable route between the station and the new buildings. Councilwoman Shelley Carroll believes that the first efforts of the new project should be concentrated around building a dense, walkable node directly around Bessarion Station.