Mayor Eric Adams calls for elimination of parking mandates (top-left); Affordable & accessible public transport for social and climate Justice (bottom-left); RU study finds overbuilt multifamily parking (right)
Article of the Week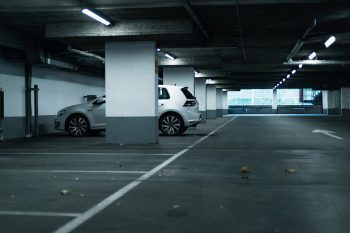 Parking at Multifamily Properties Is Overbuilt, Rutgers Study Finds, Highlighting Need for New State Guidelines
Joshua Burd, Re-NJ, September 20 2023
A new study from the Rutgers Center for Real Estate reveals far lower demand for parking at multifamily rental properties than is provided when using NJ Residential Site Improvement Standards (RSIS) requirements. The study examined responses from 175 properties, comprising over 28,000 units in the state. The RSIS for low- and midrise apartments requires 1.41 cars per unit and 1.01 spaces per high-rise unit. These findings suggest that reducing parking requirements could yield cost savings in construction, enhance housing affordability, and address climate challenges.
NJ TOD News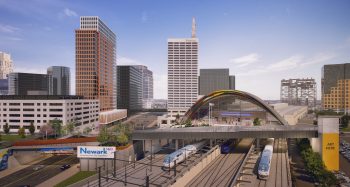 NEWARK—Newark Celebrates Start to Mulberry Commons Pedestrian Bridge
Jessica Perry, NJ BIZ, September 20 2023
On Tuesday, Newark officials held a groundbreaking ceremony for the Mulberry Commons Pedestrian Bridge, the state's largest. Connecting Newark Penn Station to Prudential Center and the Ironbound neighborhood, the bridge will enhance walkability and transit accessibility of the downtown area. Additionally, the City aims to coordinate the new pedestrian bridge with the recent launching of the Newark Retail Reactivation Initiative, which offers financial assistance to businesses and nonprofits.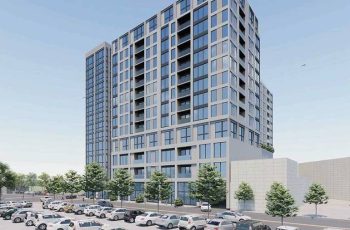 NEWARK—NJEDA Approves $90M Aspire Credit for Newark Transit Village
Mattew Fazelpoor, NJ BIZ, September 19, 2023
The New Jersey Economic Development Authority (NJEDA) board has approved tax credits for a transit-oriented housing development in Newark, the third city project approved for the Aspire Program. The NJEDA authorized up to $90 million in tax credits for the new mixed-use, 14-story building, about 60 percent of the eligible project price tag of $150 million. Located across from the NJ TRANSIT Broad Street Station, the project will include 350 residential units (with 70 affordable units), 8,500 sq. ft. of retail space, a commercial parking garage and electric vehicle charging stations.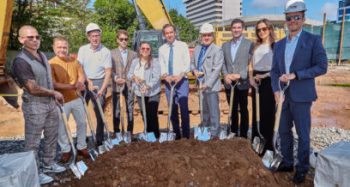 JERSEY CITY—53-Story Residential Tower on the Rise in Jersey City
Jessica Perry, NJ BIZ, September 18 2023
Panepinto Properties has begun construction of Pathside, a $338 million, 53-story residential project adjacent the Journal Square PATH Station in Jersey City. Located within an Opportunity Zone, the 605-unit project will comprise 3,200 sq. ft. of retail space, 304 bicycle parking spaces, and create 2,300 jobs. According to Joe Panepinto Jr., President of Panepinto Global more than 8,000 housing units have been completed or are planned for the area.
---
Transit and Equity News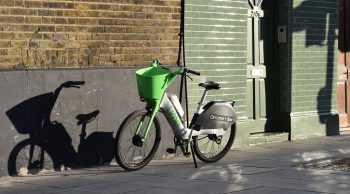 Study: How Low-Income People Really Use Micromobility
Kea Wilson, Streetblogs USA, September 20 2023
A recent study from Monash University finds that low-income individuals heavily rely on shared micromobility devices for essential purposes, such as grocery shopping. The study's authors attribute this preference to the affordability and accessibility of these services.  Despite the benefits, 36 percent of micromobility riders reported challenges in reaching certain destinations due to no-ride zones.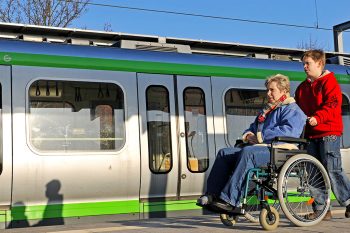 5 Reasons Why Affordable and Accessible Public Transport Is Crucial for Social and Climate Justice
Mehdi Lehman, Greenpeace, September 14 2023
In response to the ongoing climate crisis, writer Mehdi Lehman outlines his justifications for ensuring transit equity. Lehman contends that public policies must address critical issues such as violence against women, difficulties faced by disabled riders, and the exclusion of rural communities from the larger transit network. Given that transportation accounts for 15 percent of global greenhouse gas emissions, Lehman highlights the urgency of mitigating the climate crisis and ensuring mobility justice.
---
Regional and National TOD News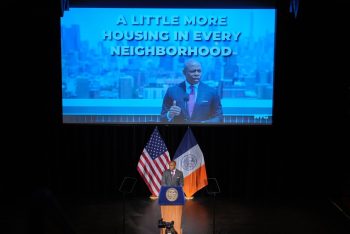 NEW YORK—City of Yes Yes Yes! Adams Calls for Elimination of Parking Mandates on All New Housing
Julianne Cuba, Streetblogs NYC, September 21 2023
New York City Mayor Eric Adams has issued a major rezoning proposal to eliminate parking minimums for new developments, a plan aimed at creating the "City of Yes." Most regulations mandating off-street parking date to the 1950s, and according to city estimates, each parking space adds approximately $67,500 in construction costs. The reform is expected to facilitate the construction of 100,000 new homes over 15 years, thereby expanding affordability and promoting sustainable modes of transit. Also see the press release.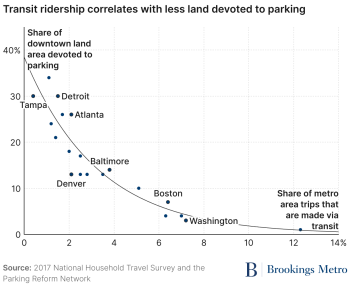 WASHINGTON, D.C.—Transit in the Washington Region Has a Future, if We Plan For It
DW Rowlands, Greater Greater Washington, September 21 2023
As in most cities across the U.S., transit ridership in Washington, D.C. has not fully recovered to pre-pandemic levels. With a quarter of district residents working from home in 2022, the shift to remote work has implications for future network planning, contributing to a projected $900 million deficit by 2035. While commuting has decreased, the demand for transit to the City's core is still crucial, as 30 percent of trips begin in downtown D.C. Thus, to ensure that public transit remains viable, the authors believe WMATA needs to focus on reliability, fare reform, and reduced investments in parking.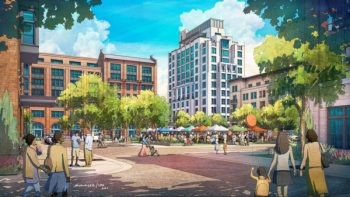 VIRGINIA—A Brand New Neighborhood Is Coming to Richmond's Pulse Bus Rapid Transit Corridor
Wyatt Gordon, Greater Greater Washington, September 18 2023
Newly released plans for the second phase of the Sauer Center Development call for more density along Richmond's Pulse bus rapid transit (BRT) corridor. The project will span 37 acres and encompass 2 million sq. ft. of new housing, by offering a mix of townhomes, high-rises, and apartments. In 2021, the City rezoned the area as Transit-Oriented Development 1, which allows construction of up to 12-stories.
---
International TOD News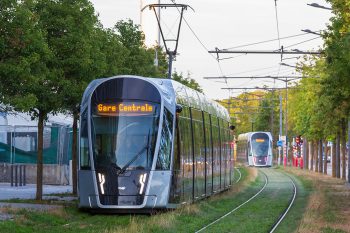 LUXEMBOURG—All Aboard! Can Luxembourg's Free Public Transport Help Save the World?
Steve Rose, The Guardian, September 20 2023
Despite introducing free fares on all public transport in March 2020, Luxembourg continues to grapple with its car-centric culture and car ownership rates, one of the highest in Europe. In addition to the annual €40 million for the program, Luxembourg plans to invest €225 million in modernizing French rail lines to its borders, with the goal of increasing commuter service seating by 50 percent by 2035. The country also aims to reduce commuter train headways to seven minutes by 2028.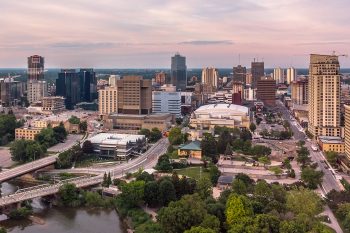 CANADA—Canada Unveils Landmark Agreements to Build More Homes
Colin R. Singer, Immigration.ca, September 19 2023
Canadian Prime Minister Justin Trudeau has announced a $74 million municipal agreement under the federal government's Housing Accelerator Fund for London, Ontario. This fund will oversee the construction of 2,000 homes in the city over the next three years, focusing on proximity to public transit and essential locations. Overall, the government's goal is to create an additional 100,000 housing units to address the country's housing affordability crisis.