With projects underway and several recently completed, Bloomfield could be said to be undergoing a significant facelift. A New Jersey Transit Village since 2003, the Township of 47,339 residents is seeing long established plans come to fruition through new investment. Much of the current growth is focused on Bloomfield Center and Bloomfield Station. Additional opportunities for transit oriented development exist near the Township's other two train stations and along its bus routes.
Excellent transit connectivity, essential for transit-oriented development (TOD), is abundant in Bloomfield. Located on the Montclair-Boonton Line, Bloomfield Station is the busiest, with more than 1,000 riders boarding each weekday. Riders at peak times can travel on one of eight trains to make the 32 minute trip to New York Penn Station or take a train that terminates at Newark Broad Street Station, where they can transfer to trains to Hoboken. An additional 200-plus passengers board at the Watsessing Avenue Station each weekday, where seven peak period trains serve the southern part of the Township. Riders can also access the Newark Light Rail at the Grove Street Station, the terminal station on that line. Frequent service, every 10-15 minutes on weekdays and 20-25 minutes on weekends, connects riders to Newark Penn Station. Nearly 700 passengers board at Grove Street each weekday.
The Township boasts substantial bus service. Within a quarter mile of Bloomfield Station, riders can access NJ TRANSIT's 11, 27, 28, Go28, 29, 34, 62, 72, 94 and 709 bus routes. This wealth of bus options connects residents with many nearby employment centers (Montclair, Parsippany-Troy Hills, Montville, Paterson, and Newark) and shopping destinations (Willowbrook Mall and Garden State Plaza). GoBus (Go28), the bus-rapid transit line, connects Bloomfield's downtown business district with downtown Newark and Newark Liberty Airport. Near the Watsessing Avenue Station, passengers can take route 90 to Belleville, East Orange, Irvington, and Newark; while near the Grove Street Station the route 94 connects to Belleville, East Orange, Irvington, Linden, Newark, Roselle, Roselle Park, and Union.
Planning efforts are underway to improve conditions along the Bloomfield Avenue corridor – a locally and regionally significant roadway that connects downtown Bloomfield with Glen Ridge, Montclair, and Verona. Parallel planning efforts among the four communities and with Essex County have produced the Bloomfield Avenue Complete Corridor Plan, the goal of which is to help coordinate planning goals and improve pedestrian and bicycle conditions along the corridor. The Plan aligns design standards and recommendations among the communities with the Essex County Complete Streets Policy and identifies short- and long-term improvement strategies. The Plan resulted from a region-wide planning effort, Together North Jersey (TNJ), with technical assistance provided by TNJ partner, NJ TRANSIT. Additionally, the NJ Health Impact Collaborative at Rutgers University is conducting a Health Impact Assessment (HIA) to identify likely positive and negative health impacts that could result from a potential road diet where the four travel lanes along Bloomfield Avenue would be reduced to three, thereby creating safer travel conditions for pedestrians, cyclists, transit users, and drivers. This work is supported by Partners for Health, a local community foundation dedicated to advancing good health, wellness, and disease prevention. Improving pedestrian and bicycle access will improve accessibility and local economic conditions near Bloomfield Station and along the corridor and will promote future development. Projects such as these help to bolster recent improvements like those completed at the six-point intersection in downtown Bloomfield.
With such robust rail and bus service in Bloomfield and potential pedestrian improvements along Bloomfield Avenue, Avalon Bloomfield Station, the signature development at Bloomfield Center, is an ideally situated transit-oriented development. The project is located adjacent Bloomfield Station, occupying the block bounded by Glenwood Avenue, Lackawanna Place and Washington Street. In September 2013, a 468-car parking garage was built on the site and construction is now under way to complete the project. The estimated $85 million investment includes 224 units of upper-story apartments with a fitness center and direct access to the parking garage. First floor retail space is slated for all three street fronts, with a major grocery store set to anchor the intersection of Glenwood Avenue and Lackawanna Place. Occupancy is expected in Spring 2015.
To support this major development, Bloomfield has begun taking steps to enhance Bloomfield Station. In 2008, NJ TRANSIT completed a $1.3 million rehabilitation of the New York Penn Station-bound platform of the station. The Township recently acquired, and is developing plans to renovate, the Hackettstown-bound side of the station building, which had been privately owned and unavailable to passengers. A National Registered Historic Place, Bloomfield Station features a pedestrian tunnel beneath the elevated tracks where passengers will be able to reach both the New York-bound and Hackettstown-bound platforms from the entrance on Lackawanna Place. Completion of the station renovation will greatly improve access and allow greater connectivity with downtown Bloomfield.
Close to the Avalon Bloomfield project, Bloomfield College recently completed its Franklin Street Residence Hall, an 80,000 square foot mixed-use facility located at the intersection of Broad and Franklin Streets. Three retail tenants on the ground floor will add to Bloomfield's commercial offerings, the largest being a new Barnes & Noble bookstore that opened this fall and serves both the campus and the community.  More than 200 students live in the building's upper three floors, which also house a fitness center and a rooftop courtyard.  Bloomfield College, a small private college of nearly 2,100 students and an important institutional anchor in the community, invested $27 million in the project.
These projects may soon be joined by two others. On Broad Street across from the Franklin Street Residence Hall is a proposed development known as Block 243. In April 2012, Phillips Preiss Grygiel, LLC prepared a redevelopment plan for Bloomfield Township that envisioned a series of high-quality mixed-use buildings for the site to increase street-level retail activity and provide multi-family housing opportunities.  In May 2014, the Bloomfield Planning Board approved an application for a final site plan presented by MCP Bloomfield Urban Renewal, LLC, the designated redeveloper for Block 243.  The plan calls for a five-story mixed-use building with 11,530 square feet of first-floor retail and 140 upper-story residential units.
One block south of the Franklin Street Residence Hall at 390 Franklin Street, Community Investment Strategies, Inc. has proposed Heritage Village, a housing development for residents 55 and older. The project will offer 82 affordable one- and two-bedroom apartments as well as a community space and a wellness and fitness center. Rents will be between $650 and $850 per month. The 0.85 acre site will also include a landscaped courtyard for residents. Financing for the project includes federal low income housing tax credits as well as funding provided by the Community Development Block Grant Disaster Recovery Action Plan (CDBG-DR) Sandy Disaster Recovery Program. The projected investment cost of the entire project is $20 million.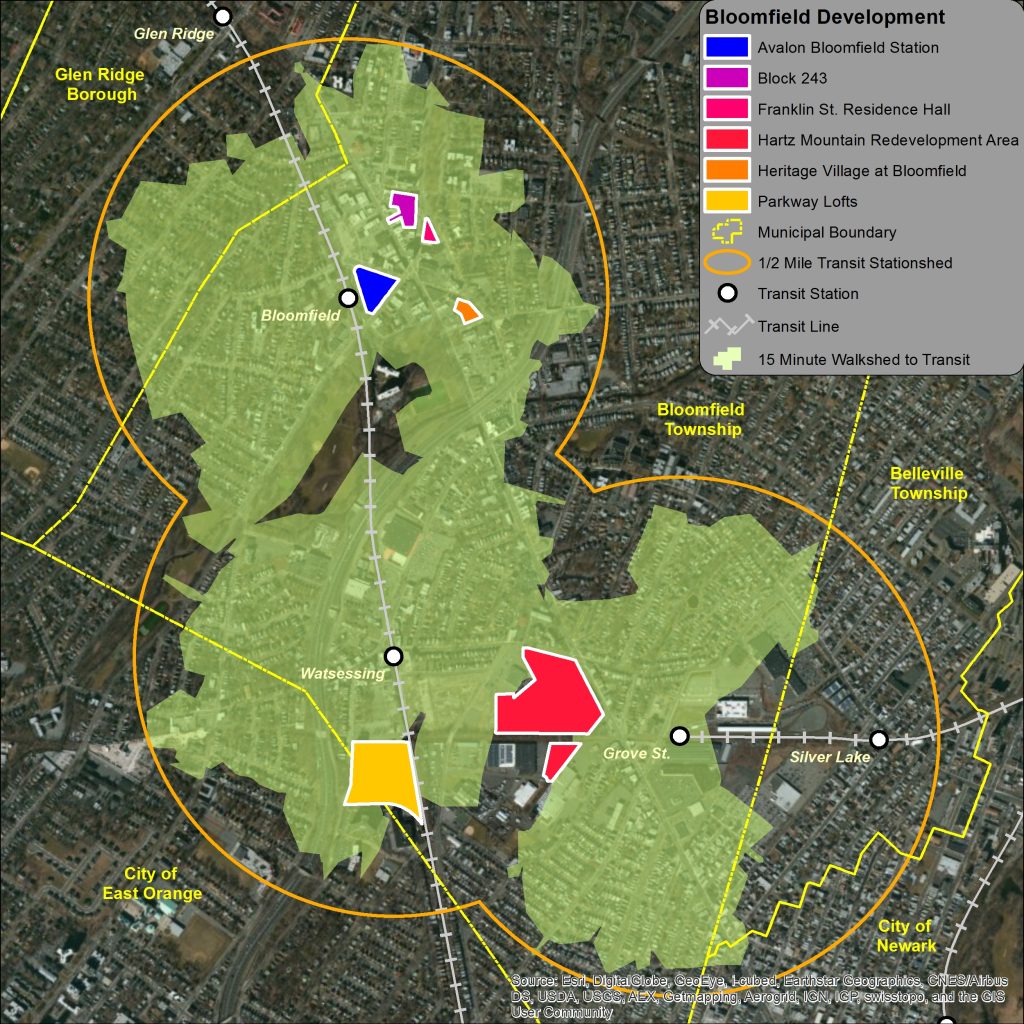 Transit-oriented redevelopment plans and projects have been proposed for other parts of the community as well. Redevelopment of the Watsessing area was studied as part of a 2008 Smart Futures grant that was awarded to the Township.  A draft Watsessing Center Transit Oriented Design Plan Community Profile, prepared in 2012, documents accessibility of transit at both Watsessing and Grove Street stations and provides a thorough analysis of demographics, land use and zoning, and pedestrian/vehicular access in the area. At that time, the Bloomfield Township Council adopted a redevelopment plan for the Hartz Mountain Site that promoted mixed-use development.  The site, located at 192 Bloomfield Avenue, is well located for TOD – just a half-mile from the Watsessing Station and less than a quarter-mile from the Grove Street Station.
One recently completed project in this area is Parkway Lofts. Located at 5 Lawrence Street on the border of Bloomfield and East Orange and less than a quarter-mile from the Watsessing Station, this $60 million project rehabilitated the former General Electric Company Bloomfield Works building. Work began in 2011 and resulted in the conversion of the former six-story warehouse into 361 loft-style apartments. The building features a broad range of amenities including a fitness center, convenience store and a rooftop deck with views of the New York City skyline.
Bloomfield Township boasts ample TOD opportunities at three transit stations, nearly $200 million invested in development projects, and almost 1,000 housing units recently completed or under construction. Well-crafted plans to promote new investment near Bloomfield Station and guide growth in the Watsessing and Grove Street station areas have the Township well positioned to grow in ways that make good use of its transit assets.