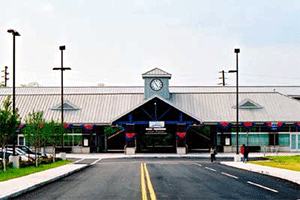 Since the spring 2003 opening of its NJ TRANSIT rail station, Union Township has worked steadily toward developing the area around the station for residential and other uses. Well situated for commuters traveling to Newark or New York as well as those coming to nearby Kean University and a plant of the health products company Schering-Plough, the station now averages more than 900 riders per weekday. The Union station, built at a cost of $33 million, most of which was secured by former Congressman Bob Franks from federal funding, is now the fourth busiest on the Raritan Valley Line after Westfield, Cranford and Plainfield, accounting for nine percent of all Raritan Valley ridership.
In an effort to make the most of the new station, work began in 2004 on an initial transit-oriented development project, 49 two-bedroom townhouses known as Liberty Village. This project, located on Green Lane and built by Transit Village Developers, is nearing completion with the last closings scheduled for this summer. More recently, work has begun on an extended stay hotel, Korman Corporate Suites. Construction is proceeding in stages with occupancy scheduled in the first section by this fall. When completed, the facility will house more than 150 corporate suites and furnished apartments in a four-story structure with below-grade parking.
Work will soon begin on another town home community, Station Square, located within a half-mile of the station, at the corner of Green Lane and Buell Avenue North. This Matzel and Mumford (M&M) property will rise on the site of a former boiler tube manufacturing plant. The previous owner completed minor environmental clean up of the site, removing oil tanks and soil. M&M are set to start demolition this summer on the 3.27-acre site, removing derelict office and warehouse buildings. Station Square will feature 52 two- and three-bedroom townhouses using the same floor plans as M&M used in its Canal Crossing development in South Bound Brook. That project also reclaimed industrial property for residential use, the former GAF plant, requiring intensive site clean up.