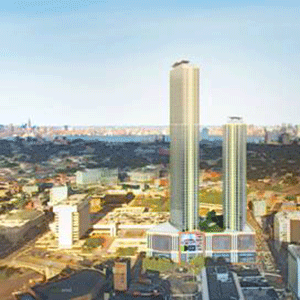 The Jersey City Planning Board has granted final site plan approval for the construction of two mixed-used towers on a 1.5-acre site immediately adjacent to the Journal Square PATH station on the old Hotel on the Square block. Journal Square is a designated "Transit Village" under the NJDOT-sponsored program. Recent designs call for a 38-story south tower and a 58-story north tower housing a total of 1,500 studio, 1-bedroom and 2-bedroom apartments above two stories of retail and five stories of parking.
The stage was set this summer when the national real estate equity fund, Multi-Employer Property Trust of Baltimore, joined the project as a majority partner of Jersey City's Harwood Properties. The Connecticut architecture and planning firm of Becker+Becker has also joined the project. In 2006, the Jersey City Redevelopment Agency condemned the property, later reaching an agreement to purchase the property for $2.1 million, an amount that will be reimbursed to the city per the redeveloper agreement.
A surface parking lot and one-story retail stores are currently on site. Most tenants have already relocated to nearby sites; the last tenants are scheduled to vacate by the end of the year.
Demolition is expected next spring with construction to begin in early summer. The north tower is planned to be completed before the south tower with the first housing units to be available in 2010.