Reshaping the MUTCD (left); Mixed-Use Health Districts (right) 
Article of the Week
It's Time to Reshape the Federal Document That Shapes Our Streets: The MUTCD
National Association of City Transportation Officials, August 14 2023
The National Association of City Transportation Officials (NACTO) claims that the Manual on Uniform Traffic Control Devices (MUTCD) has contributed to unsafe street design and calls upon the Federal Highway Administration (FHWA) to address this in the 11th edition of the manual, currently under review. More than 40,000 deaths per year occur on American roadways, a number higher than any other industrialized nation. Pedestrian deaths have reached an all-time high, and motorists strike and kill Black people at a significantly higher rate than White, non-Hispanics. NACTO offers six reforms to enhance street safety and prioritize pedestrian urban environments.  
NJ TOD News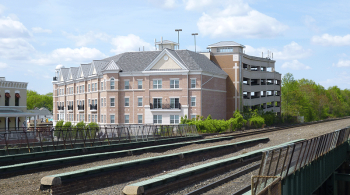 How Transit Villages Are Reshaping New Jersey's Urban Landscape
Marcelo Remond, Planetizen, August 16, 2023
Since 1990, the New Jersey Transit Village Initiative has supported communities in their efforts to revitalize and improve around transit facilities. Remond looks at the impact of the program, taking into account increasingly pressing issues such as climate change and the housing crisis, highlighting redevelopment in Bloomfield and Cranford.

New Funding for NJ Transit? Here Are Fulop's Transportation Plans as He Eyes Governor Race
Colleen Wilson, northjersey.com, August 15 2023
Three-term Democratic Mayor of Jersey City and candidate for governor, Steven Fulop, offered his plans to improve public transportation infrastructure in New Jersey. Fulop advocated for congestion pricing, more NJ TRANSIT funding, reinstatement of the corporate business tax, station improvement, and light rail expansion. He supports statewide implementation of initiatives like Vision Zero, which eliminated pedestrian deaths resulting from car crashes in Jersey City.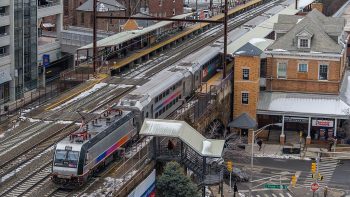 Eagleton Polls State Residents About New Jersey Transit
Uriel Isaacs, The Daily Targum, August 14 2023
A spring 2023 Eagleton Center for Public Interest Polling (ECPIP) survey found that a majority of New Jersey residents either strongly or somewhat support state funding for NJ TRANSIT. The poll indicated that surveyed state residents prefer the state to provide funds to address the agency's budgetary challenges. Among them, 78 percent expressed opposition to cuts in bus and rail service and 67 percent oppose fare increases.

HOBOKEN—Lyft and City to Install New Citi Bike Docks by Hoboken Train Station
Caren Lissner, Patch, August 10 2023
The City of Hoboken will respond to expressed demand and expand its Citi Bike program by introducing 24 additional docks in the Hoboken Terminal area. The initiative is part of a larger effort by the City to decrease greenhouse gas emissions as outlined in their Climate Action Plan. Citi Bike's integrated network extends across Hoboken, Jersey City, and New York City, offering sustainable transportation.
---
Transit and Equity News
RHODE ISLAND—Rhode Island Discontinues Free Bus Service Over Costs
Christian Wade, The Center Square, August 10 2023
Citing budget constraints, the Rhode Island Public Transit Authority will discontinue its yearlong free bus ride pilot program in September. Lawmakers allocated $2.5 million from the federal American Rescue Plan Act for the pilot on the state's most used bus route, the R-Line, which connects Providence and Pawtucket. Ridership on the R-Line increased 40 percent during the program.
How 'Snob Zoning' Blocks Opportunity
Joan Mooney, Smart Cities Dive, August 10 2023
Author Richard D. Kahlenberg addresses exclusionary zoning policies in "Excluded: How Snob Zoning, NIMBYism, and Class Bias Build the Walls We Don't See." Kahlenberg explores how "snob zoning" renders housing unaffordable in areas with good jobs and obstructs opportunities. He argues that the origins of these practices stem from both class bias and historical racism.
---
Regional and National TOD News
NEVADA—Las Vegas May See First Light-Rail Line, With Federal Help
Mike Akers, Las Vegas Review Journal, August 14 2023
The Regional Transportation Commission of Southern Nevada will receive $5.9 million from the U.S. Department of Transportation. The Bipartisan Infrastructure Law funding will support the completion of the 17-mile-long light rail line along Charleston Boulevard. The transit line will be Las Vegas' first light rail line, enhancing transportation access and connectivity. Additionally, the funding aims to incorporate Complete Street elements, including bike lanes, wider sidewalks, and improved pedestrian lighting.
The Potential of Mixed-Use Health Districts
Robert Steuteville, CNU, August 11 2023
Utilizing a more urbanist approach, hospitals have begun to incorporate aspects of transit oriented development (TOD) into their development efforts, a practice that might be called hospital-oriented development. Hospitals often serve as economic anchors in large cities and smaller communities, employing 6.7 million people, generating $900 billion in revenue each year nationwide, and driving demand for medical and other offices. Hospital-oriented development shares values with TOD, such as support for building residential and retail in close proximity to hospitals to create complete neighborhoods and active forms of transportation. 
WASHINGTON, D.C.—Street Parking in DC Is Way Too Cheap
Joshua Peacock, Greater Greater Washington, August 7 2023
As in most cities, valuable land in the District hosts subsidized parking for residents and commuters including 150,000 Residential Parking Permit (RPP) spaces, 20,000 metered spaces, and 230,000 other spaces. Peacock examines the pricing of this asset and argues it is underpriced, particularly RPP spots. He offers alternative price models such as size-based fees or payouts for non-RPP users, that could result in as much $397.5 million in revenue that could repurposed for social services.
---
International TOD News
FRANCE—France to Raise Airline Taxes to Invest $110 Million in Railways
Alex Ledsom, Forbes, August 12 2023
The French government plans to invest $110 million to expand and enhance its rail sector through an increased airline tax. This move follows the recent prohibition of short-haul flights under 2.5 hours, designed to promote domestic train travel and reduce carbon emissions. Currently, flyers find the cost of airline travel within Europe cheaper than the cost of train travel. Additionally, the government plans also to consider raising taxes on private jets.
VIETNAM—City of Ho Chi Minh Explores Transit-Oriented Development for Urban Planning
Antony Dunn, ISP Today, August 12 2023
Ho Chi Minh City will review land planning along Metro Line No. 1 and Ring Road No. 3 to advance development. The strategic approach draws upon successful transit-oriented development models in Japan, South Korea, and Singapore and aims to create well-connected satellite towns along the route. The first metro line, spanning 19.7 km, is 95 percent complete.