Amazon Grabs Large Downtown Bellevue Property Next to Transit Hub.
Bellevue Transit Center by user Dweymouth is licensed under CC-BY-SA-4.0.
NJ TOD News
Commuter Gondola Plan Gets off Ground, but Bayonne Says It's Being Left out of the Loop
Ron Zeitlinger, The Jersey Journal, April 22, 2019
Staten Island officials have unveiled a plan to install a gondola across the Kill Van Kull, between the Port Richmond neighborhood in Staten Island and the Eighth Street HBLR station in Bayonne, New Jersey. The cost of the project is anticipated to be $168 million, which the Staten Island Economic Development Corporation reports to be less than the cost to build an equivalent subway or light rail track. The gondola would be able to transport 3,000 people per hour on 13 minute end-to-end trips, for a cost between $4 and $6 each way.
New Jersey Congressmen Fighting Back Against New Jersey Commuter Tax
TapInto Staff, TapInto Bloomfield, April 22, 2019
U.S. Congressmen Josh Gottheimer and Bill Pascrell, from Livingston and Paterson, respectively, have announced plans to fight the proposed New York congestion taxes that they believe would disproportionately be paid by New Jersey residents. They argue that the congestion tax, estimated at about $3,000 per year for NJ commuters to Manhattan, is unfair since it will only contribute funds to MTA services, not towards transit systems shared between New York and New Jersey. Congressman Gottheimer has proposed legislation in the House that would offer a federal tax credit to anyone paying congestion taxes and would prohibit the Secretary of Transportation from funding MTA projects through Capital Investment Grants until the three NJ crossings are exempt from the tax.
South Amboy: Manhattan Beach Club Apartments Proposed as Ferry Project Advances
Susan Loyer, Bridgewater Courier News, April 24, 2019
Samboy Partners Urban Renewal LLC has submitted an application to the South Amboy planning board for a project on Radford Ferry Road between the planned ferry terminal to Manhattan and the city's train station, located on the North Jersey Coast Line. The first phase of the project will consist of two four-story apartment buildings with 501 market-rate units, while the remaining phases will include affordable housing options. Updated plans for the ferry terminal include a second floor with a restaurant or banquet hall, as well as parking for 750 vehicles and an area for bus drop-offs to facilitate multimodal transit options.
Belmar Moves New Jersey Seafood Festival to Heart of Downtown
Cathy Goetz, Tapinto Belmar/Lake Como, April 25, 2019
The New Jersey Seafood Festival, held the weekend of May 17-19, will be hosted in downtown Belmar this year, rather than on the Borough's beachfront. The move will help local businesses transition into the summer season earlier than usual and provide exposure for the downtown shopping hub. Additionally, the transition will provide easy access to the festival for out of town visitors, who will be able to walk to the festival from the Belmar train station on the North Jersey Coast Line.
Hackensack Awarded Grants for Main Street Improvements
Kimberly Redmond, TAPintoHackensack, April 26, 2019
Hackensack, one of the newest Transit Villages in the state, has received $370,000 from the Transit Village initiative, as well as a $255,610 Municipal Aid Grant Award, to improve the streetscape of its Main Street between Berry Street and Banta Place. The City plans to install brick pavers and street trees, increase ADA compliance, and improve trash and lighting management with the funding. Morristown, Bloomfield, Somerville, and West Windsor also received Transit Village funding for pedestrian improvements to their streets.

Regional and National TOD News
City Announces New Bus Speed Initiative, But Will Drivers Respect the New Lanes?
John Greenfield, Streetblog Chicago, April 19, 2019
Chicago officials have announced the $5 million Bus Priority Zones project, which will seek to speed up city buses through the use of bus-only lanes on three major streets and equip buses with BRT-like technology. Buses will be equipped with signals to queue green lights at an intersection, and bus stops will be relocated to increase route efficiency. Chicago mayor-elect Lori Lightfoot will work with the Illinois state legislature to permit automated enforcement of bus lanes (with cameras) to ensure dedicated bus lanes are not impeded by personal vehicles.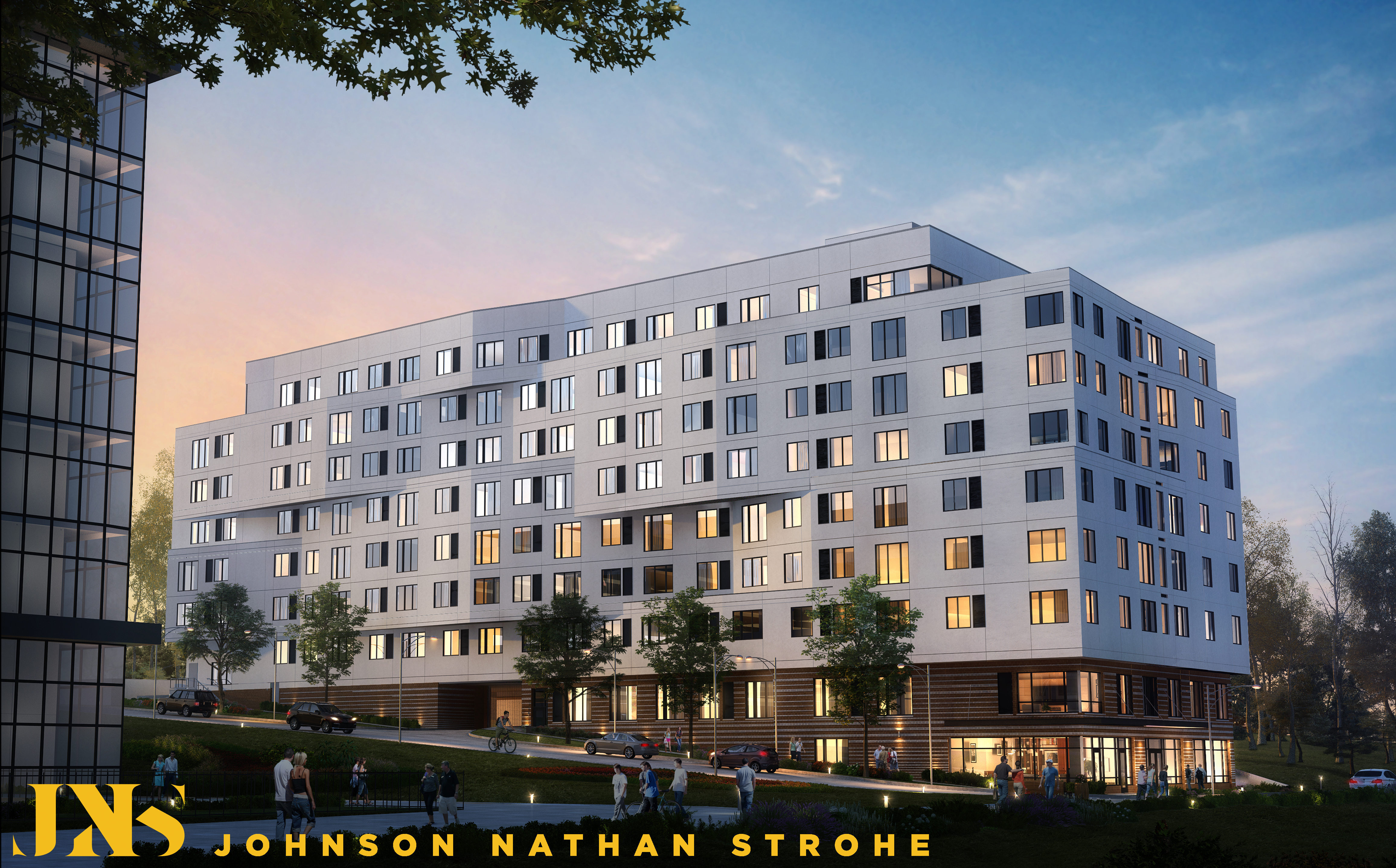 Permanently Affordable Housing to Be Built Along Major Transit Corridor
MileHighcre, April 23, 2019
The Urban Land Conservancy, in partnership with a national developer and a local Denver developer, will expand its Community Land Trust with the construction of the Sheridan Station affordable housing development on the Regional Transportation District's (RTD) W Line. The 133 rental units will be made affordable through a 99-year renewable ground lease, funded partially by $1,995,000 from the City and County's Affordable Housing Fund. To encourage transit use by residents, the development will lease 120 parking spaces from RTD, rather than construct new parking. This will save the project $2 million and help it to maintain affordability at 30 to 60 percent of the Area Median Income.
Banyan Street-Greystar Creating 'Affordable Housing Out of Thin Air' in Atlanta
John Jordan, GlobeSt.com, April 23, 2019
Banyan Street Capital and Greystar have received financing and purchased the air rights necessary to begin construction on a $125 million affordable housing development above an existing parking garage outside the Peachtree Center MARTA station. The project will offer 345 units, ranging from studios to three bedrooms, to residents earning at or below 80 percent of the Area Median Income. The complex will also provide easy transit access to a MARTA express bus stop and an Atlanta streetcar stop, as well as to the Peachtree Center Avenue bike lane, creating easy transit access for residents, especially those who live in the complex's 70 workforce units.
Amazon Grabs Large Downtown Bellevue Property Next to Transit Hub
Mike Rosenburg & Benjamin Romano, The Seattle Times, April 24, 2019
Amazon has purchased a 1.2 million square foot property in Bellevue, WA, for $195 million, in support of its plans to relocate its worldwide operations from Seattle to Bellevue. The property, built in 1980, lies across the street from the Bellevue Transit Center, which houses 20 bus routes and a future light rail stop. Over the next four years, Amazon will move thousands of employees to its new urban campus, which, with this new purchase, consists of 2.2 million square feet of space in existing or planned buildings.
Parking at Three Metro Stations Will Be Free This Summer
Paul Duggan, The Washington Post, April 25, 2019
In response to the impending closing of six Yellow and Blue line stations in Alexandria, Virginia, the WMATA board has voted to allow free parking at the Huntington, Franconia-Springfield, and Van Dorn Street stations, where parking is normally $4.95 per day. The free parking will make it easier for commuters to take express shuttle buses to the Pentagon Station, allowing them to transfer back onto the Metro. The 15-week shutdown will allow for 24/7 restoration work on the six station platforms to address safety and ADA concerns, as well as structural issues.

International TOD News
Why Addressing Pedestrian Concerns Is Key to Making Bengaluru Liveable
Vimal Simha, Citizen Matters, April 22, 2019
Recent reports published by the Environmental Management Policy & Research Institute and the Center for Study of Science, Technology, and Policy indicate that Bengaluru, India is suffering from major air pollution and road accident issues driven by the city's increasing reliance on motor vehicles. In 1981, 60 percent of trips in Bengaluru were walking or biking trips – today, this number is 10 percent. To encourage a shift back towards walking, biking, or using transit rather than driving, the Bengaluru government is offering incentives to build development around metro stations. Additionally, the major parties in India are building political platforms based on enhancing walking and cycling use.