Mixed-use future for Garden State Plaza (left); Affordable TOD housing in the Bronx (top-right); Fairfax County (VA) approves parking reductions (middle-right); Australia adopts Build-to-Rent housing (bottom-right)
Article of the Week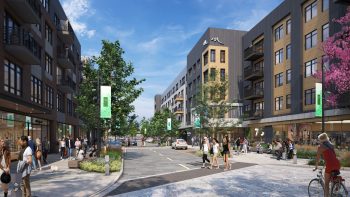 PARAMUS—Unibail Seeks to Add Roughly 1,400 Housing Units to New Jersey Flagship Mall
Linda Moss, CoStar News, September 25 2023
Unibail-Rodamco-Westfield (URW) and Mill Creek have announced plans to build as many as 1,400 residential units as part of the redevelopment of Westfield Garden State Plaza in Paramus. The first phase calls for two mixed-use, five-story mid-rise buildings with nearly 600 apartments and 25,000 sq. ft. of retail space and a one-acre town green. A future phase would include a hotel, additional residential and retail space, and a regional bus transit center. The next hearing on the development is slated for October 5th.
NJ TOD News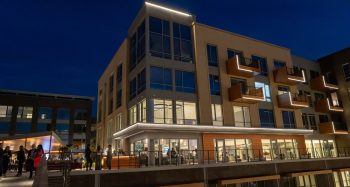 UNION—Debut of Sol at Vermella Union completes Russo's 6-year Transformation
Jessica Perry, NJBIZ, September 26 2023
Tuesday marked the opening of Sol at Vermella Union, a significant milestone completing the six-year transformation of a 42-acre former industrial site near the NJ TRANSIT Union Station. The 309-unit development is part of the larger Vermella campus, which houses over 900 residential units and 35,000 sq. ft. of retail space. Sol at Vermella Union is located within walking distance of Kean University.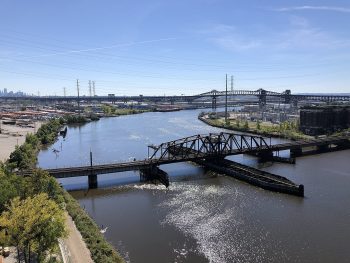 $60M for Rail Bridge Project Over Passaic Will Cut Train Delays. Here's How Much
Collen Wilson, September 25 2023
The Federal Railroad Administration (FRA) has awarded Conrail a $60 million federal grant to fund the second phase of the replacement of Point-No-Point Bridge, which connects Kearny and Newark over the Passaic River. Currently, wait times can be as long as 5½-hour, and require some trains to take a 12-mile detour. When completed, wait time will be 12 minutes. The improvements will also benefit a portion of the Northeast Corridor serving PATH and NJ TRANSIT. Conrail, which manages traffic for freight carriers, will provide the required 20-percent match to the grant.
---
Transit and Equity News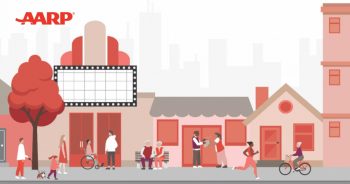 As Demographics Change, AARP Looks at How to Make Communities More Livable
Audrey Carpenter, AARP, September 29 2023
The 2023 AARP Livable Communities Economic Development Workshop, held last week, focused on sustaining livable, thriving communities for elderly populations. The virtual workshop explored how diverse housing, accessible transportation, and vibrant downtowns can enhance local economies and community living. Panelists discussed how zoning practices, centered on nuclear family lifestyles, have become outdated, and stressed the need for "middle housing." The speakers encouraged advocacy for smart growth, adapting communities to the evolving needs of older residents, and creating inclusive, connected, and sustainable living environments.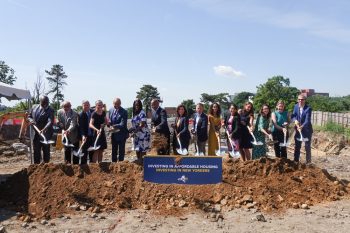 NEW YORK—First Phase of $189M Affordable Development Tops Off in The Bronx
Diana Firtea, Multi-Housing News, September 29 2023
Services for the UnderServed and Bronx Pro have completed the first phase of Starhill, a $189 million affordable housing project in the Morris Heights neighborhood of the Bronx. This phase of the project comprises 326 units, including 200 designated for individuals experiencing homelessness and substance use disorders, and an urban farm. The project is proximate to the 176th Street Station, served by the 4 train and several bus routes. The project, part of Governor Kathy Hochul's plan to create more affordable housing, is facilitated by the Jerome Avenue rezoning plan, aiming to develop mixed-use and mixed-income housing.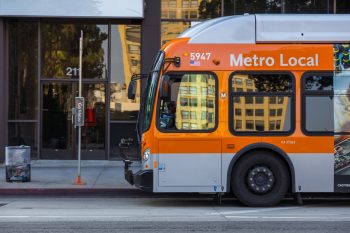 CALIFORNIA—Editorial: Bus Shelters Aren't Perks. They're Crucial to the Future of L.A. Transit
Times Editorial Board, LA Times, September 27 2023
The City of Los Angeles will soon address a long-standing deficit and provide bus shelters at its stops. The lack of adequate shelter at bus stops disproportionately affects low-income people of color who rely on transit. In 2022, the City Council approved a 10-year contract to install and maintain 3,000 shelters. Prioritizing high-ridership areas in hotter locations, the city aims to provide shelters for 75 percent of riders. The city plans to collect advertising revenue from the shelters and reinvest in the program.
---
Regional and National TOD News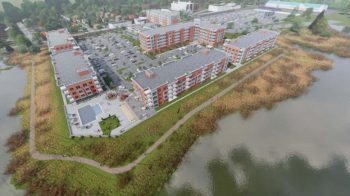 CONNECTICUT—Transit-Oriented Development Could Transform Fairfield County, if It's Affordable and Environmentally Sustainable
Davis Dunavin, CT Mirror/WSHU, September 27 2023
New transit-oriented development (TOD) near Fairfield Metro, a station that opened in 2011 on Metro-North's New Haven line, may help to address Fairfield County's housing affordability and transportation challenges. With an average monthly rent of $2,800 for a two-bedroom apartment, only three percent of housing in Fairfield meets the state's affordability criteria. The county is also home to what been called the nation's most congested stretch of interstate, I-95. Moreover, development near the station will require attention be paid to environmental conditions, as the site lies adjacent to wetlands. One such project, the Crossings at Fairfield Metro seeks to redress some of these issues and plans to provide 80 below-market-rate apartments among nearly 700 total units.
VIRGINIA—Fairfax Supervisors Approve Plan to Reduce Parking Requirements
Margaret Barthel, dcist, September 27 2023
The Fairfax County Board of Supervisors have unanimously passed a policy updating parking requirements for new development. The final "Parking Reimagined" policy will reduce the number of parking spaces developers are required to include in projects. The new minimums depend on several factors, including land use, location, and proximity to transit. The plan also adds requirements for bike and pedestrian infrastructure to help non-drivers navigate large parking lots. Advocates believe the new requirements could help the county avoid building new underused parking garages, and encourage the reuse of existing, but underutilized garages.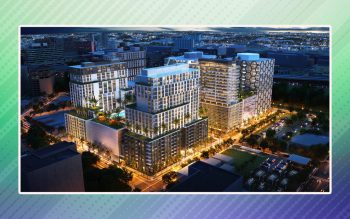 FLORIDA—Black Salmon, Allen Morris plan $1B Miami Health District Project
Katherine Kallergis, The Real Deal, September 25 2023
Black Salmon with partner Allen Morris Company have announced plans for a $1 billion mixed-use development in Miami's Health District. The 7-acre Highland Park Miami project is expected to feature 1,000 apartments, as well as 500,000 sq. ft. of medical office space and retail. The developer spent about $60 million over the last 10 years acquiring about 50 properties located on four city blocks to assemble land near the Metrorail. The development, designed by Arquitectonica, will be constructed in phases over the next decade and could increase the Health District's footprint by 10 percent.
---
International TOD News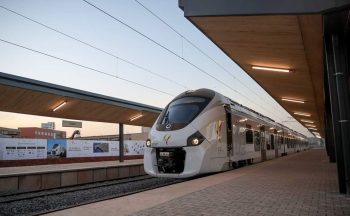 SENEGAL—The Dakar Express Train, a Lifeline for Sustainable Transport
Benoit-Ivan Wansi, Afrik21, September 28 2023
Operational since 2021, the Dakar Regional Express Train (TER) advances sustainable transport for Senegal and fulfills a crucial part of the Emerging Senegal Plan (PSE). Primarily serving the residents of Dakar and its suburb, Diamniadio, the TER provides 115,000 passenger rides daily through its 200 stations and contributes over $33 million annually to the national economy. The second phase of the project, which will link Diamniadio to Dakar's Blaise Diagne Airport, receives support from the West African Development Bank. It is slated for completion by December 2023. This initiative is a step forward in decarbonizing urban transport and improving mobility in the Dakar region. The TER prevents the emission of 92,000 tonnes of CO2 equivalent.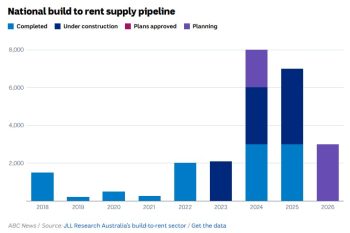 AUSTRALIA—Build-to-Rent Housing Is Gaining Momentum, So Will It Help Ease the Rental Crisis?
Gavin Coote, News, September 26 2023
Australian developers have begun to adopt a practice common in the U.S. and U.K., build-to-rent (BTR). In recent years, home ownership has become unaffordable for many Australians, and until now, little rental housing has been available. Developers are currently working on over 60 BTR projects nationwide, delivering nearly 20,000 new dwellings. Build-to-rent housing has been relatively uncommon in Australia, with just 4,486 BTR apartments scattered across the country.