As Vice President of LCOR Inc., a national, full service real estate company, Anthony Marchetta has worked on numerous transit-oriented development projects throughout New Jersey and the Mid-Atlantic Region.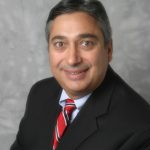 In a recent interview, Mr. Marchetta said a dramatic change has taken place in the attitude of the development community about transit-oriented development: "This industry has been like a giant ocean liner making a 180° turn toward TOD. Ten years ago, few firms showed interest in sites near existing transit stations. Today the 'McMansion' builders are investing in places like Hoboken and Jersey City. Mainstream development is now in the urban areas, not in the greenfields."
Mr. Marchetta has been at the leading edge of this movement. One of his most notable projects is the completion and lease up of Gaslight Commons, a 200-unit luxury multifamily residential community adjacent to the NJ TRANSIT Sloan Street Train Station in South Orange (a designated New Jersey Transit Village). Gaslight Commons was the 2002 recipient of the New Jersey Future Smart Growth Award.
Another TOD project of LCOR is Bank Street Commons Apartments in White Plains, NY. This $137 million project integrated 500 units of luxury residential housing into two towers located within a 3-minute walk of the Metro-North Railroad station, which provides commuters a "one-seat ride" to Manhattan's Grand Central Terminal in just over 30 minutes. As an added benefit, the project is in walking distance to the Galleria at White Plains and other shopping opportunities. The first residents moved into the apartments in May 2003.
The firm also won the rights to develop a 32-acre site at the White Flint Metrorail station in North Bethesda, Maryland. Designated as the developer by the Washington Metropolitan Area Transit Authority (WMATA), LCOR's mixed-use master plan includes approximately 1.2 million square feet of office space, 200,000 square feet of retail space and 1,350 residential units. The approximate value of the project is over $650 million and the development is expected to generate nearly 5,400 new jobs. The project received a Smart Growth Recognition Award from the Washington, DC chapter of the Urban Land Institute and the Smart Growth Alliance.
Most recently, Mr. Marchetta has been working on a public/private partnership with NJ TRANSIT to redevelop the historic Hoboken Terminal. In October 2005, NJ TRANSIT authorized LCOR, Inc. to be the site's master developer of a project that would eventually add upscale shops and restaurants to the Terminal, originally constructed in 1907. LCOR, Inc. will team with Skidmore Owings and Merrill, William Jackson Ewing, Loheed Design and DMJM+Harris to provide the study at no cost to NJ TRANSIT. If the plan is approved, the team will gain development rights to the project for the next 15 years. NJ TRANSIT will work with both Hoboken and Jersey City on this redevelopment project as it will build on the $100 million terminal restoration plan now in process and approved in 2003 by NJ TRANSIT and the Port Authority of New York and New Jersey.
Mr. Marchetta served for 10 years as Executive Director of the Middlesex County (NJ) Department of Housing and Community Development, initiating many new programs dealing with a variety of housing issues and local economic development concerns. The multi-million dollar programs benefited over 400,000 residents and 20 different local jurisdictions. He is a licensed professional planner and was appointed by former Governor Christine Whitman to serve on the New Jersey Planning Commission from 1998 to 2001.
Mr. Marchetta is a 1971 graduate of Rutgers University were he later garnered Master's degrees in City and Regional Planning and Business Administration. He has six children and resides with his wife Maureen in Princeton, New Jersey.