The Village of South Orange Township has a lot going for it – an active downtown, good transit connections to midtown Manhattan, walkable neighborhoods, and recently completed housing. One might be tempted to write it all off as luck. But keen observers know the considerable effort that is needed to make this community of 16,000 residents work. Since the early 1990s – through changes in public office holders and ups and downs in the real estate market – South Orange has plotted its course along a transit-supportive redevelopment path, always with the goal of maintaining and growing the vibrant community. Two projects currently under construction – The Gateway and Third & Valley – are testament to this course of action. But equally important are the years of self-assessment, planning, public engagement, and commitment by both the public and private sectors that contributed to the community's well-being and provided support for its designation in 1999 as one of the five inaugural Transit Villages by the NJ Department of Transportation.
South Orange Station is situated on the NJ TRANSIT Morris and Essex (M&E) line, where since 1996 commuters have benefited from MidTown Direct service that brought about a one-seat, 30-minute trip to midtown Manhattan. The station is the most frequented stop on the M&E, with 54 inbound trains to New York Penn Station and 62 outbound each day. Passengers can also travel to Hoboken and transfer to the PATH for trips to lower Manhattan. Additionally, South Orange bus passengers can travel to New York City via NJ TRANSIT route 107 and to Newark via NJ TRANSIT route 82 and CoachUSA route 31. To reduce parking demand at the station, the Village began jitney service during peak hours in 2002 that has since grown to three routes. In 2013 the Village added two Zipcars – a national car sharing service – to its transportation resources to provide options to residents and visitors who are carless. The vehicles are located at the station. Making connections to transit has helped to grow its use among South Orange commuters. According to the US Census, the share of South Orange residents who commute by transit grew from 21 to 29 percent between 2000 and 2012, or to nearly three times the rate of transit commuting among New Jersey commuters overall (10%).
Recognizing the value of its transportation resources early on allowed the Village to focus use of its other assets to their best advantage. For more than twenty years, South Orange has systematically redeveloped underutilized sites close to the station. Planning studies, visioning workshops, and redevelopment plans for the station area, the central business district, and for the larger downtown area have all consistently honed a message of concentrated growth at the Village center. The 2010 Downtown Vision Plan for South Orange Village highlights this agenda in its call for a diversity of economic and other activities located at the Village center, support for the arts and cultural opportunities, and provisions for all forms of transportation including transit, biking, and walking. Equally important, the Village put into place the necessary changes to its adopted Land Use Plan and to zoning in the station area in order to facilitate their intended redevelopment vision.
This work paved the way for several projects completed over the past 15 years and supports projects still in the works. Early projects include the redevelopment of commercial storefronts on Sloan Street, adjacent to the South Orange Station in 2001, and, in 2002, Gaslight Commons, a 200-unit rental complex on West Third Street. In 2006, the South Orange Performing Arts Center (SOPAC) opened. The 34,840 square feet performance facility and the station share parking. In 2008 the New Market renovation project on South Orange Avenue adapted a former ShopRite property in order to house a gourmet market and restaurant. Around the corner from the New Market project on Vose Avenue is The Avenue at South Orange, a three-story mixed use structure completed in 2010 that houses 79 condominiums and 4,200 square feet of ground floor retail.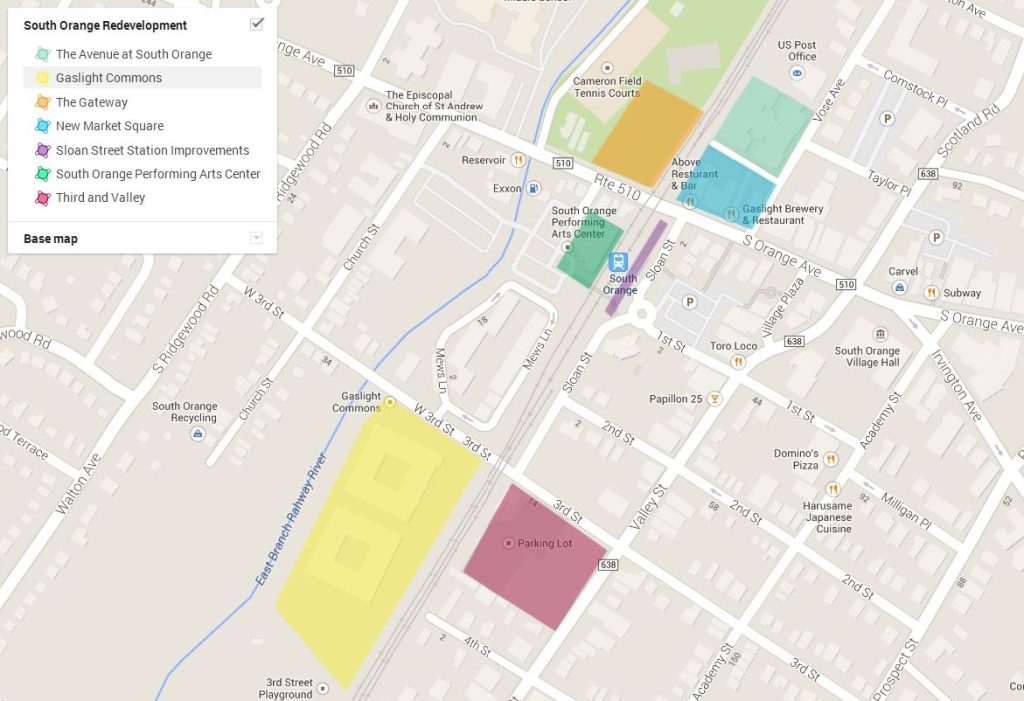 The Village is continuing its efforts to encourage more people to live in its downtown car free or with only one car and within walking distance of shops, entertainment, and the station. Village officials also anticipate that having more residents living downtown will result in more income for local business owners and enhanced tax revenues for the community. Village President Alex Torpey offers that South Orange has "been going in this direction for a while. There's been an interest in bringing a little bit more density to the downtown. We're really thinking about how we can bring more revenue to the downtown." This strategy is designed to grow tax revenues from new residents and businesses in the downtown. Additionally, it is hoped that this approach will lessen increased tax burdens on existing residents throughout the community, including those living in single family residential areas located further from the town center and the station.
Torpey envisions enhancing the Village's walkable downtown core and making it friendlier to both pedestrians and bicyclists. One step toward this vision is to better organize parking and locate it just beyond the most central part of town. The goal is not to reduce the amount of available parking but to have it function better. Options to enhance parking include replacing surface lots with garages and encouraging residents and shoppers to share garage spaces to reduce overall demand. Torpey acknowledges that "all projects definitely have a parking component to them."
Headlining new construction, the Third & Valley mixed-use building will indeed encompass parking, building a 521-space parking garage with 255 available for public use. Jonathan Rose Companies, the planning and real estate firm, broke ground on the $64.4 million project in March 2014, its first construction project in New Jersey. Replacing a 2.7-acre parking lot and emergency services that will be relocated, it will offer 215 rental units and 4,000 square feet of commercial space when completed in 2015. Ten percent of the units will be set aside as affordable housing. The project also incorporates the Village's Smart Growth principles: building near public transit (one-block from the train station), using energy efficient appliances and non-toxic building materials, and building to LEED Silver certification standards. Jonathan Rose Cos. has been dedicated to environmentally-conscious development since its founding 25 years ago, with successful TOD across the country.
Along with Third & Valley another flagship development, The Gateway, is considered a critical component of the Downtown Vision Plan. The project fills a long-time void in the Village's downtown, the site of the former Beifus Motors dealership, which sits adjacent to the train station and has been vacant since 2003. South Orange-based EEA Industries, LLC, in partnership with SWH Residential Partners, LLC, began construction in May 2013 on the mixed use project. When completed in fall 2014 Gateway will add 57 rental units and 9,100 square feet of retail space to the Village. According to property manager Renee Spear, The Gateway will meet unmet needs by creating homes for current Village residents who want to downsize as well as for those who wish to relocate to South Orange and live near the train station. Already one-third of the one- and two-bedroom apartments are spoken for. Amenities will include bicycle parking and electric car charging stations for both residents and the retail community.
Ed Ayuso, the principal of EEA Industries, aptly expressed his commitment to South Orange and its many community assets, such as its burgeoning art scene, "It's an incredible place to be. This was a great opportunity to develop and build in a village I believe in." Being located next to the train station "made the decision [to build] that much easier." This project broadens EEA Industries' South Orange portfolio as the firm has also completed a number of renovation projects in the community.

These two projects and the resulting increase in population at the Village center has raised concerns among some residents who feel that these additions will alter the historic character found in many of South Orange neighborhoods. Torpey says that Village officials have tried to allay those concerns. "We've tried to go out and involve people in the process as much as possible. For us to continue to support historic neighborhoods like that, we have to bring more revenue in. I think people understand that." Altogether, he anticipates that the Village will receive about $800,000 per year in tax revenue from the two projects. He believes that this revenue will help lessen the property tax burden on residents.
Over the better part of two decades, South Orange has clearly established a vision of development that puts its transit assets at the center. Going forward, the Village will continue to implement its vision as an economically vibrant community with a high quality of life and provide opportunities that benefit new and existing residents and businesses alike.